The season at Söderlångvik opens with a new restaurateur: "The food makes you happy and beautiful"
28.4.2023, Translation, original article by Malin Wikström
When Söderlångvik Manor opens its doors after the winter, a lot of new things await visitors. The manor has a new CEO in Annika Jansson and a new restaurateur for the season in Sami Tallberg. The guests who have sampled the menu do not spare the praise.
The first thing that meets me and the photographer when we get out of the car in Söderlångvik is the sound of birds chirping, and hammering. We have driven from Helsinki to Söderlångvik, located in Dragsfjärd on Kimitoön, without a break – and after sitting in the car for two and a half hours, it's nice to stretch my legs. The spring sun is warm and the contrast to the hectic city life is palpable. Here you can breathe.
When we visit the estate, it's just over a week before the season starts, and there's a frenzy both inside and outside the restaurant. Outside, gardeners are raking the yard and a quad bike and a tractor are passing by – all to make sure it's ready for when guests arrive. Inside the restaurant, the waiters are preparing the day's test dinner to the tune of Fleetwood Mac's 'Go your own way'. A man comes in to install the POS system, and he too is offered a cup of coffee in the cosy room.
The restaurant is run this year by renowned chef Sami Tallberg, in the form of Ateljé Sami Tallberg x Söderlångvik. The restaurant has been renovated and decorated in forest green, the chairs are a mix of Thonet chairs and sturdy wooden benches. The tables are decorated with plants from nature – twigs from pine and lingonberry. The table setting is made up of odd porcelain and glass easels. You can tell that nature is part of this restaurant.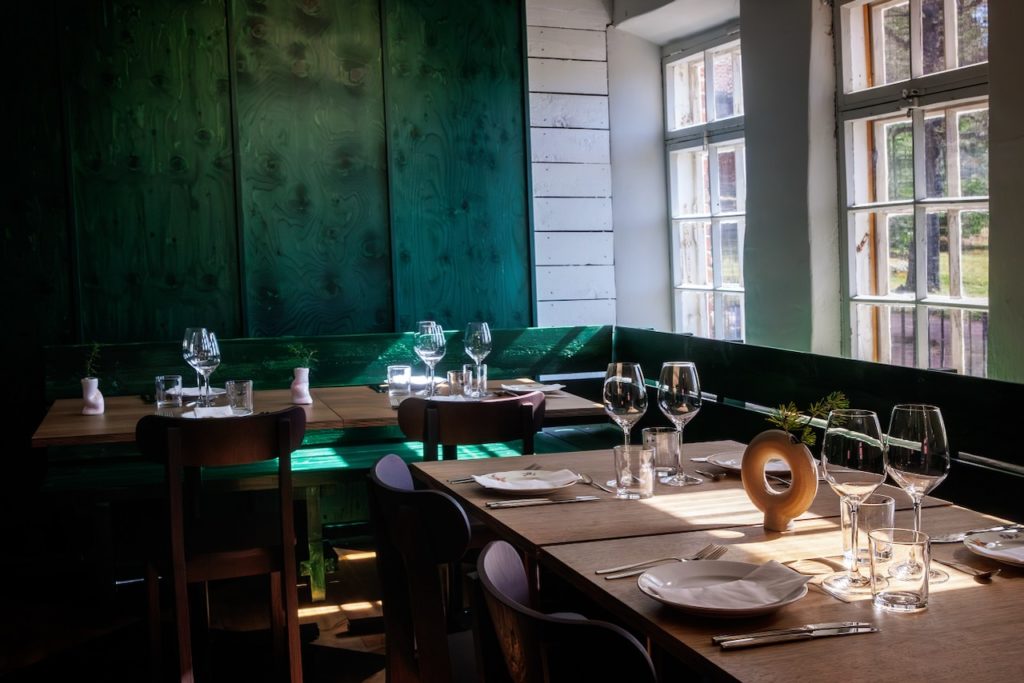 – Söderlångvik had everything renewed, which suits me well because I like to renew and have a pioneering spirit. I also have my own style and now I get to do things according to it and use fantastic ingredients, says Sami Tallberg.
Sami Tallberg's niche is both wild herbs and wild mushrooms, and this will be reflected in the restaurant. The restaurant's summer season is divided into three parts.
– The first part is the golden age of wild herbs, which lasts until midsummer. This is followed by the tourist season with high quality ingredients, when Finns are on the move and eat out more than at other times of the year. Everybody is in a good mood and nature is full of flowers. When school starts, the mushroom season, which here lasts until the end of September, begins.
Sami Tallberg's food philosophy, and his knowledge, shows.
– My food philosophy is based on French and Italian gastronomy. I like to use Italian flavour pairs. It goes well with our interior – it's completely unpretentious food paired with basically quite chic but relaxed decor.
In addition to the restaurant, the building houses a café and a small shop.
– You can come to the café for a steak tartare, or an almond pastry, perhaps a glass of champagne or a non-alcoholic beer. Or you can come for lunch, which consists of a selection of starters, main course and dessert. It's affordable without being fancy. You get high quality food, skillfully prepared and composed of several elements.
He is keen to emphasize the importance of lunch.
– It appeals to me very much that we are open at lunchtime. The protocol of an evening restaurant is often so boring. When I worked in London for eight years, lunch was eaten just like this, so the gastronomy and culture of eating out was not just tied to the evening. I love that.
For Sami Tallberg, the environment is important. He wants to live without light pollution and spend time in nature.
He can do that here, in a fantastic manor setting.
– The restaurant is not just a shop in the city, but part of the whole estate. The restaurant business can be quite hectic, it can easily become stressful, so this environment creates the best possible conditions for my team. As a restaurateur and manager, it's important that the team feels good.
On this day, a test lunch is taking place. This means that invited guests can come and test the lunch and give feedback. Anna Piiroinen and Ludowica Eklund have come from Hanko.
– It's super tasty. This food makes you happy and beautiful, says Anna Piiroinen.
– Ludowica Eklund's review is that it is delicious and fresh.

Piiroinen believes that Söderlångvik Manor will be visited by food tourists this summer, as the place and Sami Tallberg's food are unique.
– This kind of food should also be available in Hanko.
They will come back for lunch, and Anna Piiroinen is considering celebrating her birthday in what is called a Chef's Table. This is a concept where parties can book a dinner in a studio kitchen. There, guests can experience "creative madness" and hear Sami Tallberg talk about his experiences from the world of food, while he prepares food together with the guests, to the tune of appropriate music from a vinyl player.
Greenhouse farmers Diana and Johan Kinos have also tried the three-course lunch menu.
– It was delicious, the meat was very tender.
The couple grow their own tomatoes, and have tried a new flavour combination – tomato with tar and basil.
– It was interesting, we haven't tasted it before.
Johan Kinos notes that there is no time to have a three-course lunch during the lunch break, but on weekends and during holidays this concept works.
– There is a great atmosphere here, says Diana Kinos.
In the small boutique, located in the same building as the restaurant and café, guests can buy products to take home, including Sami Tallberg's version of archipelago bread, wild herb products, and foods to have at home such as rosé balsamic vinegar, risotto rice, coffee and olive oil.
Like everyone else on the estate, these are busy times for farm manager Micke Jensen, who is in his eleventh year at Söderlångvik. He rushes to the restaurant to solve a problem before discussing the extension of the garage, where the ice cream parlour will be slightly expanded this year.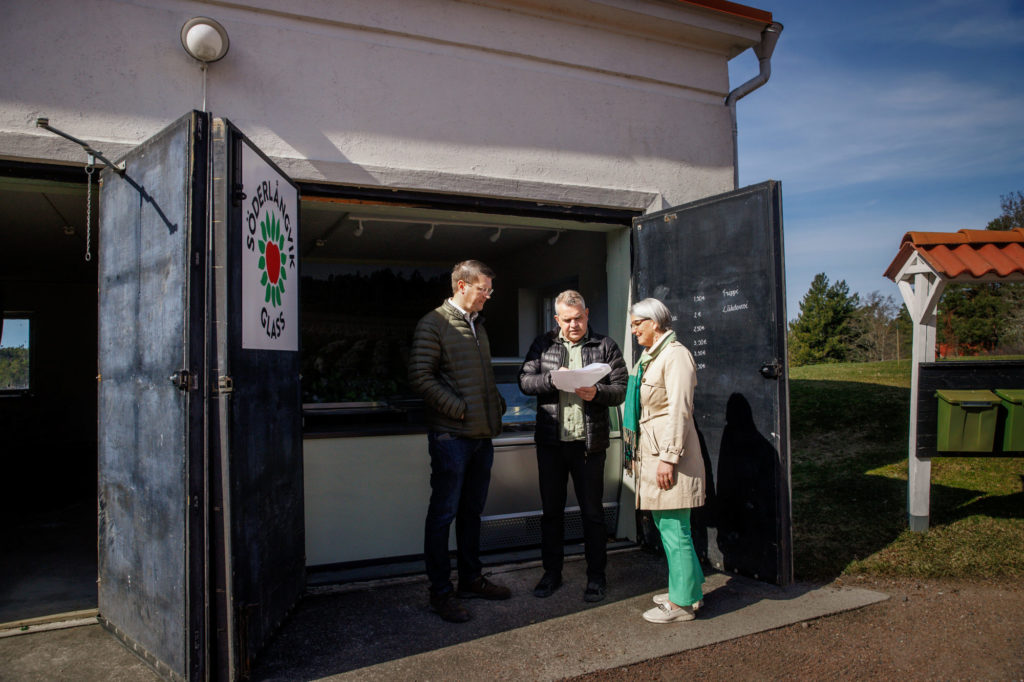 – The ice cream parlour was first opened last year, at the same time as we launched our own ice cream brand, Söderlångvik Glass. Now we are expanding the garage to get a little more space. We have also juiced our apples ourselves for the first time. Previously, we had a subcontractor who took care of it. But we built an apple facility at Tolfsnäs farm, and that means we can store them in low-oxygen warehouses, which increases their shelf life and keeps them fresh until the following spring.
While Åland and Europe have had such storage facilities for a long time, they are not so common on the Finnish mainland – Söderlångvik is now the second mainland producer to have such a storage. The new warehouse significantly reduces transport distances.
Micke Jensen is in charge of the apple orchards, the properties and the 7000-hectare forest. Things are happening there too. Söderlångvik has a new forestry strategy that extends twenty years ahead. The forest is to be managed as sustainably as possible, and this includes a long list of measures. Among other things, part of the forest will be managed using the continuity forest principle, i.e. leaving some undergrowth and not felling the forest so that the ground becomes completely bare. They are also in the process of creating some wetlands, something that the farm's new CEO Annika Jansson is fascinated by.
– It's a very exciting project. I would like to learn more about the forest and forest management, even though we have professionals who do that. But I want to get people out into nature.
She wants to do this in different ways. One is to promote the Manor's hiking trails and encourage people to visit them.
– In September, I plan to organise guided walks on two Saturdays. Then people who might not go out into nature on their own can come along, and we have an expert who can tell you about everything you see along the way.
Signage on hiking trails is being developed.
– I have received help from the staff and I am grateful for that. They have come up with ideas and said, for example, that we could tell more about animals and nature. Another tip is to tell people what perennials are in the park, so that the park develops as well and visitors learn more about what they see there.
Annika Jansson started working at Söderlångvik a month ago and has already made her mark on the organisation.
– I've started preparing for Lux Söderlångvik, a light festival, and I'm looking forward to bringing light into the darkness in November and beyond. It's very exciting.
She lists more news.
– We will also have author visits, Anna-Lena Laurén is already booked.

The manor's own direct sales is moving to Amos Anderson's garage, where the ice cream parlour "Glassgaraget" is located.
Annika Jansson has also ensured that the fountain will spray water this summer, as it failed to do so last summer.
– It has a wow effect when you come here, so it is important that it works.
Annika Jansson notes that Amos Anderson liked glitz and glamour, and she wants to build on that.
– Everything would be a little extra for Amos. According to the visitors' wishes, we will focus on the toilets by the car parks – they are very important for the overall experience. I'd like to bring in Amos' love of glamour, and I think there could be mirrors and wallpaper that are a bit luxurious. The visitor's journey in the courtyard begins there when they get off the bus or out of the car after perhaps a long journey.
– It should be neat and tidy everywhere, well raked and no rubbish should be visible, she continues. The goal for this year is to reach out to new groups of visitors, in addition to the old ones, and to do so requires new ideas.
– I've contacted social media influencers to get them to come here and talk about this place. It's a way to reach out to completely new audiences. Our own social media channels will also be very active, and we will start making short videos for our website, a bit like guided tours.
Other marketing channels will also be utilised, such as newsletters. Annika Jansson is brimming with ideas for the future.
– Next summer I hope we can start having interesting community discussions here. These would be held once a summer, and they would attract the public who don't just want to come and look at the garden or visit the museum.
We get into Annika Jansson's car and drive a bit away from the manor to the house where the new CEO is temporarily living with her family. On the way, she points out hiking trails, the wetland and the road up to the lean-to. There is a jetty by the house, overlooking the bay. For Annika Jansson, this environment – nature and the forest – is where she feels most comfortable.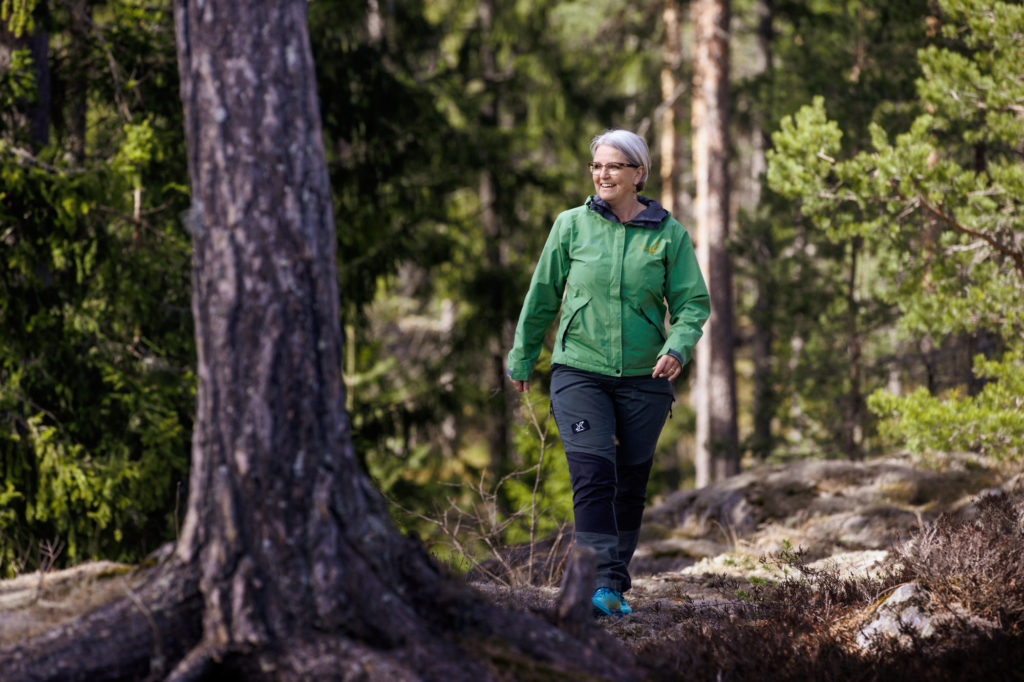 – Yesterday I stood here with the fishing rod after a long day, and it was so nice. This has become my way of unwinding.
A few days earlier, the Jansson couple had put out nets and had a nice catch.
– One pike, eight whitefish and one perch. It was a delight like no other. I've been eating smoked whitefish for days now. With a previous career in the Martha movement, I happily pull up roach and bream, what the Marthas call smart fish "smartfisk", and make ceviche from them. It's very tasty.
As a change of pace from the quiet of nature, Annika Jansson has just been in Helsinki, gaining inspiration from the House of Nobility (Riddarhuset) exhibition on mansion gardens.
The enthusiasm and energy for the new season is palpable. This may be necessary given the amount of work that needs to be done before the guests arrive in large numbers. There is only a little left now before everything is ready and just so nice that even Amos Anderson would have enjoyed being a guest.
Translated from original text Nu öppnar säsongen på Söderlångvik med ny krögare: "Maten gör en lycklig och vacker" by Malin Wikström