Lux Söderlångvik
01.12.2023–17.12.2023 13.00—19.00
Ghostly Guests – Sculpture installations by Alexander Reichstein (b. 1957)
Illuminated sculpture installations combined with sound effects in the Söderlångvik Manor park.
In UV light, figures bent from wire and sprayed with fluorescent paint will come to life like ghosts. These translucent characters will blend in with their environment and Sofiankatu's surroundings will become part of the work.
As can be seen in his stylised figures, Alexander Reichstein is a trained graphic artist.
Alexander Reichstein
Alexander Reichstein was born in 1957, in Moscow, Russia. 1976-1982 he studied printed media design and illustration, at the Moscow Polygraphical institute, specializing mostly in children's book illustration. 1982-1985 he worked as art director in the "Iskusstvo" ("Art") publishing house in Moscow. Since 1982, he has worked for various Moscow publishers, designing and illustrating books for adults and children.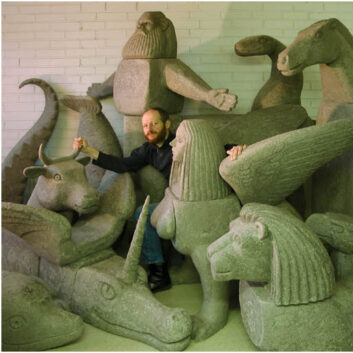 Alexander has lived and worked in Helsinki, Finland, since 1990, making art for children, and with children: illustrating children books for Swiss, Austrian, German, American and Finnish publishers, painting pictures and making sculptures for children, leading workshops, arranging happenings and art courses, building up exhibitions and installations (in a wide range of institutions – from day care centers to libraries and art museums). 1992-1994 and 2006-2008 he was teaching at the University for Art and Design Helsinki. Alexander Reichstein has taken part in several seminars and conferences for art education, presenting papers about his own art projects. The projects created by Alexander, are exhibitions for children and their parents, where visitors can be active both mentally and physically, and experience unusual artistic impressions with all their senses. Many of Alexander's projects are based on children's book illustrations. His art work has been exhibited in Finland, Sweden, Germany, Russia, Iceland, Italy, France, Japan, Spain and Portugal. It is to be seen in several collections in Finland, Russia, Germany, Austria, Switzerland, Sweden, Norway, Israel, U.S.A.
A book illustrated by Alexander (Alexis Kouros. "Gondwanan lapset". Helsinki 1997), was granted the highest Finnish award for children and youth books, the Finlandia Junior in 1997. For his exhibition project "The feather island", Alexander received the Topelius Medal in 1999. In 2008, Alexander was granted the Finnish State Award in children's culture. In 2016, Milena Parland (writer) and Alexander Reichstein (illustrator) were granted with the award of the Swedish Literature Society in Finland for the book "När månen skrattade". A.R. is member of Association of Finnish Sculptors, Finnish Illustrators Association, and Grafia.
Pia Holm & Petra Barre-Cygnel
The gardencreatives Pia Holm and Petra Barre-Cygnel take care of the park and gardens at Söderlångvik Manor. With their border crossing artwork in different garden spaces they want to make the audience curious about nature.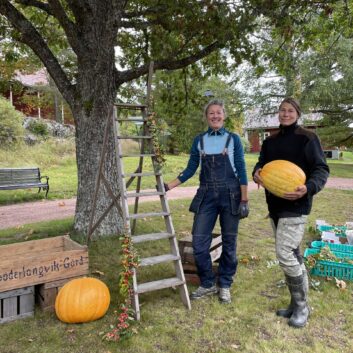 Tuure Leppänen
Tuure Leppänen (b.1999) is a Helsinki-based visual artist working with lens-based art. In his work, themes of memory, lived experience and feelings of belonging and disconnect are studied with a photographic gaze – a question recurs: How do virtual worlds, machine-made matrixes, affect the way we remember the past, experience visual contemporaneity and head towards the future?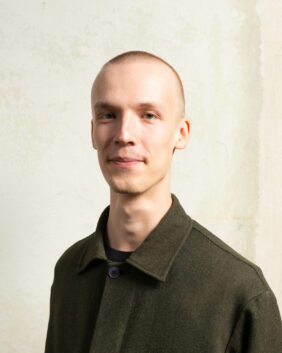 In 2022 he graduated with a Bachelor of Fine Arts from the Academy of Fine Arts, Helsinki. His works have been exhibited in galleries and off-site venues in and around Helsinki. His work was last shown in Espace Arlaud, Lausanne as a part of a collaborative residency project with sabl.live in November 2022.
Artist statement about the works
I tend to spend lengthy times outside with my camera during the night. The darkness is very physical. It's the lack of something near that comes in contact with the body. The camera then, is a torch, an outpost for me. I set it up and let it expose for 30 some minutes, as I feel the nigh around me expand.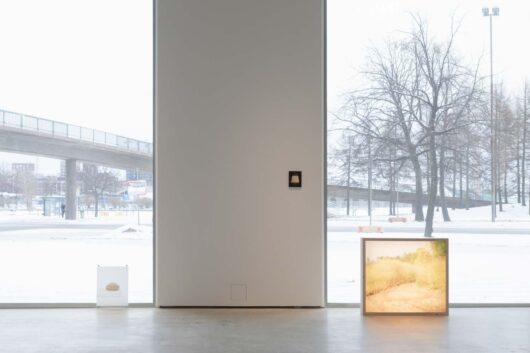 If we could see this light, we could float in it.
Light is matter that bind us humans together: our durations of time and the senses of our bodies overlap and intertwine in it. We come in contact with each other, over distance but instantly identified. In The Other Actor, I use images and sculptural elements to unveil and amplify the presence of light in order to highlight its role as a mediator between people. The work embodies feelings of connectedness, solace and empathy.
tuureleppanen.com
email for exhibition related messages: tuure.leppanen@uniarts.fi
email for other inquiries: hello@tuureleppanen.com
+358405479411
Anne Roininen
Anne Roininen is a Master's student who has participated in the University of the Arts Academy of Fine Arts' Master's exhibition Image Spring already in 2021 and who is finishing her studies this autumn.
In the Artist's own words
My artworks are spatial, with a strong basis on concepts. My techniques vary from sculptural elements to conversation with people. My recent works have dealt with analysis of the urban environment, the forest suburbs, and the nature of objects. The exhibiting context is often the starting point of my works: in what context, scale and atmosphere the work is presented.
There is a strong social charge in my work and the focus is on dealing with and conceptualizing everyday phenomena. With my works, I build wormholes between different groups of people, reach out to others, and grasp the world into my works. Different art user groups, ways of presenting and accessibility issues are of interest to me, as are ways to overlap art with/in society. I admire works with a clear idea, a simple execution, and a feeling that there is abundance behind the simplicity.
I hope I will always come up with new ways to be an artist in society.
Photo: Aleksi Kallioja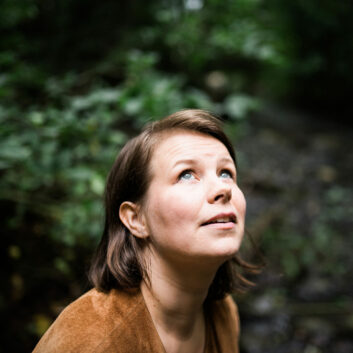 Olli Valkola
Olli Valkola (b.1992) is a multi-disciplinary artist based in Helsinki. He started his undergraduate studies a couple of years ago and is now in his third year of studies at Uniarts Helsinki's Academy Of Fine Arts in the Time & Space arts programme.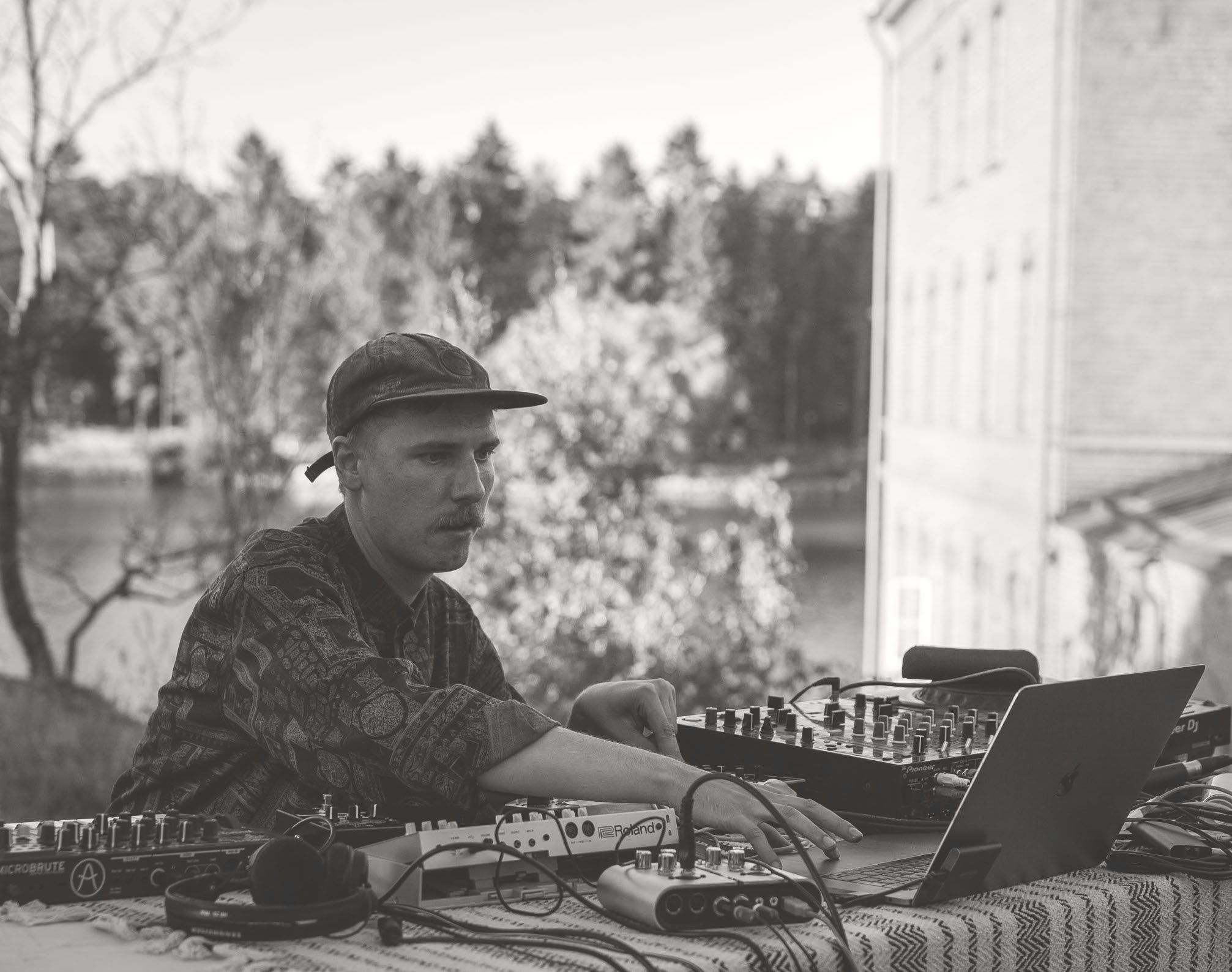 Valkola's works explore stage arts, video works, sound art, and interactive experiences. Embracing technology, his work invites audiences to engage with a blend of traditional and digital mediums, offering perspective on the intersection between art and our evolving technological landscape. Valkolas works have been exhibited lately at Time and Space Exhibition vol.1 (Kuva/Tila Gallery, 2023) and In-Between-Now exhibition (Vapaan Taiteen Tila, 2023). His latest sound design works are The Betty Show (Kansallisteatteri, 2020, dir. Sara Melleri) and Tuohtumus (Kansallisteatteri, 2020, dir. Kirsi Porkka and Marina Meinander).
In cooperation with Uniarts Helsinki's Academy Of Fine Arts
Three weeks of light, events and Christmas spirit
Glassgaraget and Söderlångvik Museum are open Wednesday to Sunday 13-19 during Lux Söderlångvik, with the exception of Wed 6th December, when we are closed. Entrance fee to the museum is 10 €. For info on hours for restaurant Ateljé Sami Tallberg x Söderlångvik, please visit the restaurant's website.
Event calendar, Lux Söderlångvik
10.12 Winter swim & Afternoon Tea
A warm welcome!
Tips for accommodation in the area during Lux Söderlångvik